Heat Pumps and renewables at Plas Derwen PRU
30th September 2021
We are delighted that almost every project we touch these days seems to have a renewable element to it, but this project at Plas Derwen PRU, Queensferry, has been designed to tick a lot of renewable technology boxes from 'the ground up'. It is literally designed in, throughout every element of the build.
Perhaps the most visible renewable technology in use is the array of three Mitsubishi CAHV-P500 ASHP units mounted to one side of the playground area and next to the external pump house and cold water storage tank for the fire safety system.
Each of the three CAHV units has a 42.6kW output and combined, deliver nearly 130kW. The PRU building is fitted with a LTHW heating system throughout to maintain internal temperatures. This feeds LST radiators, fan convectors and radiant panels. When an ASHP heating system is designed from the ground up like this one, it's usually far more effective in delivering on the claimed seasonal COP. With Lower temperature systems, the insulation of the building is critical in ensuring that the heat loss is negligible.
In education environments, we are also noting a huge growth in requirements for ventilation too. This build is no exception and is fitted with Breathing Building hybrid ventilation units. On warm days in the teaching spaces, the benefit of ventilation is obvious, but on a cold winters day, when fresh air is still required and temperatures need to be maintained, the hybrid mechanical ventilation system 'mixes' warm air with the cooler incoming fresh air to provide a healthy teaching environment, with no draughts or cold spots. These systems are designed to maintain a CO2 concentration of no more than 1,000ppm for the full teaching day. It's been shown in repeated studies that pupils are far more able to concentrate and stay healthy when CO2 levels are kept below this level.
In the school hall, the system is a hybrid ventilation solution. This comprises of roof-mounted aspirated terminals to displace cool air down into the building and move the warmer, lighter air upwards to atmosphere.
The kitchen, servery area and cooking range provide another challenge for heat retention, whilst maintaining valuable clean fresh air. There is additional mechanical supply throughout the area with a roof-mounted AHU to draw the hot air and cooking smells away from the school and teaching spaces.
At the centre of the whole installation is the pump room and BMS. To us, as mechanical engineers, this one looks like a work of art. It's a tight space but the way the system has been designed maximises accessibility for future PPM.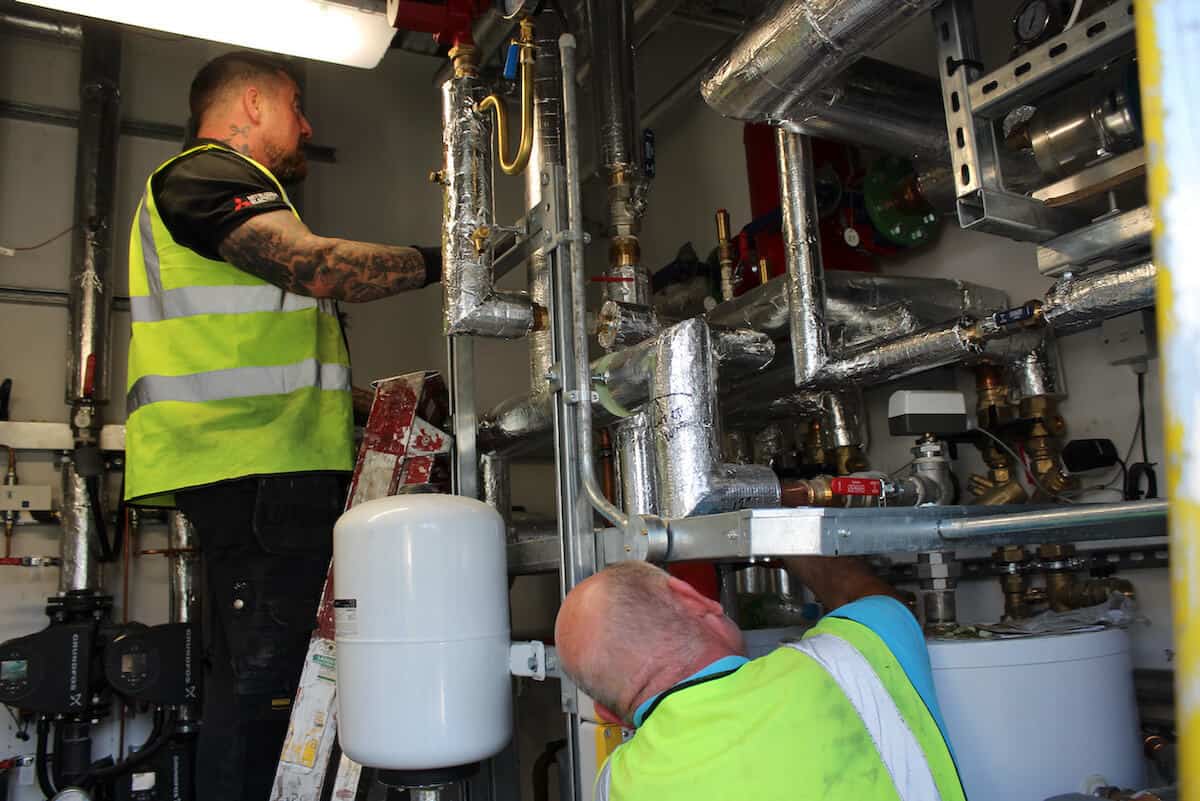 For additional safety, there is also a sprinkler system throughout. This is fed by the external tank, located by the ASHP's and the external pump room. A detection and prevention system manages all of this. It's a comprehensive system that will ensure that if fire breaks out in one area of the school, it is very unlikely to spread and there will be plenty of time to evacuate anyone still present in the building.
The PRU is due for handover shortly, but for us has been a project that plays to our strengths throughout. We've worked closely with the team at Kier and that's been a highlight, as has the design of the job from Futureserv. It's a complicated project, with a number of challenging requirements and these are where we believe we earn our stripes. When the engineers who are responsible for designing and implementing the layout of the plant room have more than 20 years experience in these types of projects and the technical leads have a decade more, we know the job is in safe hands.
There are more stories to come from this project, as there are so many individual elements that stand out, so please watch this space as we'll share them over the coming weeks and months.
«Back to Blog